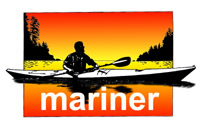 Mariner Kayaks'
Free Downloads Page
The skiing tips and mogul skiing chapters of Matt's book "Freestyle Skiing" are now available to download as a MS Word 2003 file (see below).
The Drag Prediction Spreadsheet's are in Microsoft Excel 2000 format (except for one in Excel 5.0). Some browsers can operate it (minimally) in place or they can be downloaded as ZIP files. The spreadsheets are not large files and can be downloaded relatively quickly. These spreadsheets created by Matt Broze automate and expand the "KAPER" method for estimating drag developed by John Winters of Redwing Design. It is used by Sea Kayaker magazine as one of the two slightly different methods of estimating hull drag in their kayak reviews. This spreadsheet also archives the calculated drag results for all the kayaks that Sea Kayaker has reviewed since they began using this spreadsheet through Dec. 2002. If you make the displacement of your design the same as the archived kayaks (250 pounds plus the finished kayak's estimated weight) you will be able to compare your own hull design's predicted drag with that of about 75 existing designs. Also included in the results archives are some kayaks that were tow tank tested by Sea Kayaker in 1986 along with their 1986 tank test drag results. The towing tank results were used to fine tune this spreadsheet into the "best fit with tow tank reality" for those kayaks (and hopefully the ones that followed).
Robert Livingston has endeavored to make all of his BEARBOAT Design Programs compatible with Matt's drag spreadsheet (you can just drag and drop a row of numbers that BEARBOAT generates from your design into the spreadsheet) so you can easily estimate and fine tune the drag performance of your designs and then compare your design's estimated drag to the estimated drag for some kayaks you may have already paddled among the 75 kayaks archived on the Excel 2000 spreadsheets then you can add your designs to the archives on your spreadsheet. [2012 Note: Robert has now integrated one of the above spreadsheets into his latest kayak/canoe design program, BearboatSP (see below for where to download BearboatSP free).]
While minimizing drag is only one small aspect of a good kayak design we hope one of these hull drag spreadsheets will be helpful to you. Have fun and good luck with your designs!
Downloads:
Word file of the text of the downhill skiing chapters of Matt's book "Freestyle Skiing and Excel files of Matt's Drag Prediction Spreadsheets (see bold face blue below for Bearboat link)
Mogul Chapters Freestyle Skiing by Matt Broze.doc
Jason 35' Sailboat Argent for Sale:
ArgentAd(Comp).doc

Matt's Drag Prediction Spreadsheet (SK Version).XLS (some computers can open this Excel 2000 spreadsheet in its current location and use it with limited functionality, others have trouble with it performing an illegal operation. If a dialog box pop's up asking for a password just click on "Cancel" to bring up the spreadsheet in this window)
Matt's Drag Prediction Spreadsheet (SK Version).ZIP This is the version Sea Kayaker magazine uses as the "KAPER program by John Winters" (download this file to unzip this Excel 2000 spreadsheet on to your PC. The current version of StuffIt Expander seems to have no problem unzipping this on a Mac)
Matt's Latest Drag Prediction Spreadsheet (Beam/Draft Correction).ZIP This version is similar to the above with the added feature of including the hull's Beam/Draft ratio in the calculated results. It will generate slightly different results than those in Sea Kayaker magazine but all the results archived in it are consistent with this spreadsheet.
Matt's Drag Prediction Spreadsheet in Excel 5.0.ZIP This is the same spreadsheet that has been on this download page previously. It doesn't have as large an archive file but produces the same drag results as Sea Kayaker Magazine (if the prismatic coefficient is between .48 and .64 anyway--the Excel 2000 versions remove this lower limit). If you can't run the Excel 2000 versions above, try this one.

The above drag prediction spreadsheets will work with all of Robert Livingston's sophisticated Bearboat kayak and canoe design programs. Robert has been improving Bearboat for many years as a continuing project. The latest version, BearboatSP, is available for free download at http://bearboat.net/BearboatSP.html BearboatSP also now integrates one of Matt's spreadsheets into the program. (Note: if the above web address doesn't work, try searching the web for "Robert Livingston" and Bearboat).


Mariner Kayaks' home page (click here if no Mariner sidebar is on this page)