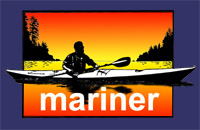 As a service to kayakers, Matt Broze of Mariner Kayaks instituted
and maintains this international database of:
Found, Lost, and Stolen Kayaks
The Final Update of the table below was on 2/7/2015 (Note: the new Excel Spreadsheet that you can download (just below) is now more up-to-date than this table, which only includes kayaks stolen from 1991 though 2014, but not kayaks stolen after the end of 2014. Unfortunately, the table below has become so large and so extremely time consuming to update that I've been forced to abandon updating it as of 2/7/15)
For 2015 and beyond I've converted this complete table into an Excel spreadsheet. This new Excel spreadsheet includes all the information in the table below and will continue to be updated quickly whenever I receive notice of a stolen kayak.
Click here to download and view the new continuously updated Stolen Kayaks Spreadsheet.
NOTICE: Extra rewards are being offered for certain kayaks stolen in California. They are identified by a "No XXX" designation in the "Found?" column and "special" in the "Reward" column of the tables below. If you bought a used kayak in the SF Bay Area (or anywhere within 100 miles of SF) in 2007 or 2008 check the database below to see if it may have been stolen and then click here to see the details of the special rewards being offered for turning one of them in to us. It is easiest to see these models listed in the yellow background section "Most Recent Kayaks Added" below (check as far back as the 7/07 dates).

Unclaimed Found Kayaks (Pink background color in table below) Could it be yours?
Recovered Kayaks (Light green background color)
There is hope, many of these kayaks were recovered because of this list (and the
unparalleled honesty of paddlers)

Check the lists below to see if the kayak you bought
or are about to buy is "Hot").
Lost or Stolen River Kayaks (White background color)
Note: Due to my lack of time to search them out on the web, stolen river kayaks
will no longer be included here unless they have been reported directly to us.

Lost or Stolen Touring or Rec. Kayaks (Light blue background color)
In all the above groups the kayaks are listed alphabetically by manufacturer, then model.
Most Recent Kayaks Added (mostly Yellow background color with Salmon color column heading rows)
The most recent additions are at the top of this group (Note: all are also listed in one of the above lists organized alphabetically by manufacturer and model) Some kayaks listed here (those with NoXXX in the found column and "special in the "Reward" column) have some generous rewards being offered by several kayak related businesses in order to encourage anyone who may have inadvertently purchased one of them to turn it in and provide some much needed information about its purchase. You could help put a serial kayak thief behind bars. Click here for the reward details on those stolen California kayaks.
How to Avoid Buying a "Hot" Kayak & How to Safeguard Your Kayak
provides information on how to avoid becoming a victim. If you bought a kayak that is on this list please read the above link and then call (206)367-2831 or E-mail us at marinerkayaks@msn.com

If your kayak has been lost or stolen, and want have your kayak added to this list of lost or stolen kayaks, mail, call, or E-mail us as much of the following information as you can:
1) Your name, address, phone numbers and e-mail addresses where you can be reached so that if we find your kayak, or get a tip about it, we can contact you ASAP (this info will not be published).

2) As much information about the kayak as you can, including if possible, make, model, colors, construction material (fiberglass, plastic, wood, skin-on-frame, folding), the Coast Guard hull identification number (HIN), and any distinguishing features about your kayak that could help someone identify it as being your kayak.

3) Tell us the range of dates (and or time of day) when the theft occurred

4) The police agency, date reported, and case number, along with the officer's name and phone number where the theft was reported. That information means we can contact the police quickly and talk to an officer who knows about the theft and get them to respond as quickly as possible if your kayak has been spotted.
5) So we can track a serial thief's MO, please tell us, in detail, where and how the theft occurred and if any security measures were defeated during the theft.
6) Do you want to offer a reward for the kayaks return (and for cooperating with the justice system)? A reward might encourage an innocent new buyer to come forward and return it to you.
Note: The only information that will be published here will be the kayak identification information, the month, year and state where the theft occurred along with any reward amount you choose to offer.

Please, let us know if you later move so we can find you if your kayak is found. It took me months trying to return a recovered kayak to one victim who had moved. Also, if your kayak is recovered and returned to you by some other way than through this website, please let me know that as well, so I can update this list with the good news (and not have someone later thinking that YOU are paddling a stolen kayak).
Note: The Coast Guard hull identification number (HIN) can be found near the stern on the right side of the hull. On newer boats the manufacturer should also have written the HIN hidden inside the kayak somewhere. The HIN is often the most unique thing about a mass produced kayak. If your kayak is stolen you may need it to get your property back from the police if it is recovered. How else will they know for sure that it is yours?
Therefore, write down and photograph your kayaks' Coast Guard HIN right now and file them somewhere safe and memorable!
(Many dealers don't keep good records and won't have the CG number if you need to report your kayak as stolen. If you can't find the number once your kayak is stolen, look on your receipt and/or call your dealer and ask them to look up your number. If they tell you they don't have it, or that it would be too much trouble to find, ask them to let you look at the old invoices from around the time you bought it).
While you are thinking about it, mark or etch all your gear and other possessions with your state's two letter code (such as NY) followed by DL and then your driver's license number. Without that, or a serial number (if you have a record of) it will be very difficult or impossible for you to recover your property even if you and the police are looking right at it and all the indications are that it is very likely your property.
If your kayak fits the description of a stolen kayak check the Coast Guard HIN. This
number could have been altered so check if your kayak's number could have been changed
by turning a 2, 3, 5, 6, 7 or 9 into an 8 (or a 1 into a 4, 7, or 9). If the first three letters are not
the same as the stolen kayaks made by the same manufacturer be suspicious. In the number
the first three letters are the manufacturers ID code (MIC) assigned by the Coast Guard. The next
five digits are chosen by the manufacturer. The ninth digit should be a letter less than "M" as it
denotes the month of manufacture (A=Jan., B=Feb. etc>). The tenth digit is the last number in the
year of manufacture (A9 would have been built in Jan. 2009, 1999--or 1989). The last two digits usually
denote the model year so the eleventh digit should be an 8, 9, 0 or 1, for 198?, 199?, 200?, or 201? Older
Canadian and non-US. origin kayaks may not follow this number scheme and even a few older U.S.
made models may not use a letter for the month. Remember to check for the same hull identification
number (HIN) likely to be hidden inside the kayak somewhere as well.
The individual $ reward offers listed below were made by the victims when they filed their reports
and some may no longer be valid (especially if several years have elapsed since the theft).
I will try to keep this list up to date. Please help by reporting thefts you have heard
about and adding anything you can about the kayaks below with incomplete information.
Disclaimer: This database is a private listing of kayaks that have been reported stolen to us.
We cannot verify the accuracy or timeliness of this information. The person in possession
of the kayak may well be another innocent victim of the thief. Do not take any action
based on this information without first consulting with us to find the original police agency
involved so they can coordinate with your local police to aid in the recovery of the kayak
and hopefully the identification, arrest and prosecution of the thief (and in many cases a
reward to you for finding the kayak).
Remember to scroll right, if necessary on your monitor, for more detailed information on each kayak.

TO VISIT MARINER KAYAKS HOMEPAGE CLICK HERE
Found?
Type
Reward
Mo./Yr.
State
Manufacturer
Model
Coast Guard #
Deck color
Hull color
Trim color
How to Claim, and Where Found
Unclaim
rec
12/13
WV
You Identify
You Identify
You identify
You Identify
You Identify
You Identify
Rec kayak found in Potomac River near Antietam Creek, MD and Shepardstown, WV. Call 206-367-2831 and identtify.
Unclaim
river
7/12
AL
You Identify
You Identify
You identify
You Identify
You Identify
You Identify
River kayak found in Northern Alabama, Call 206-367-2831 and identtify.